ETHOS
Kingston 11 Cuisine is an environmentally friendly, community-oriented, innovative restaurant. Our mission is to provide consistent high-quality, delicious blends of Jamaican and Californian cuisines using local and organic ingredients. We are a contemporary urban dining oasis known for great service, cultural exchange and the nexus of great relationships. Our goal is to use these qualities to positively transform the lives of our patrons, employees, and greater community.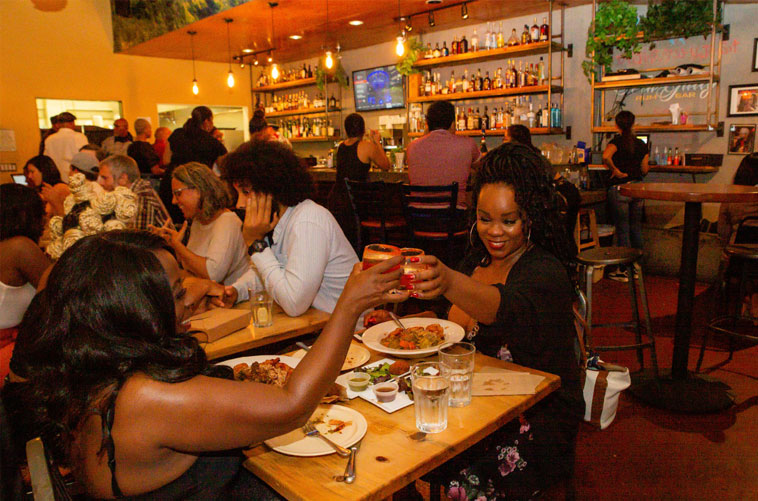 ORIGINS
Kingston 11 Cuisine has been the lifelong dream of Owner and Chef, Nigel Jones. Growing up in Kingston 11, one zip code away from Trenchtown, Nigel was surrounded by the smells, sounds, culture, and taste of urban Kingston. He was trained in the kitchen of his beloved grandmother, Gwen "Miss Gwen" Larmond who taught him to cook by balancing the flavors of the most local of ingredients—fruits and vegetables from the yard. His extensive travels also taught him that the kitchen innovations of poorer communities—the hearty home cooked meals—are the best, most flavorful and therefore most satisfying. For years he has sought to bring his appreciation for his native food and culture together with his desire for a sophisticated dining and lounge experience where all are welcome…Kingston 11 Cuisine has become that place. From their days as a pop-up restaurant in Berkeley, CA to the new space in Oakland's Uptown, Nigel and his partner Adrian Henderson have seamlessly combined Miss Gwen's legacy of simple home cooking, Jamaica's rich culinary tradition, and the global practice of community-building around food, drink, and music.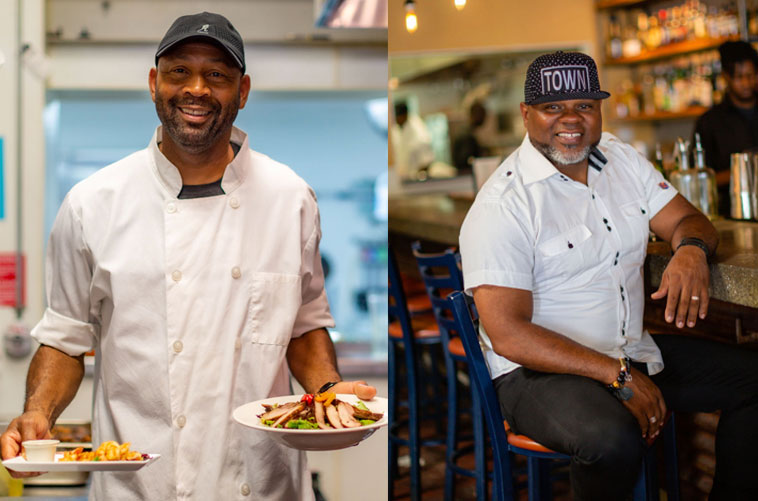 OUR FOOD
In addition to creating a community-vibe, our menu is designed with your health in mind. We craft plates that make the best of the bounty of seasonal fruit and vegetables California offers. We believe that our community deserves to eat the food we love while taking care of our bodies. That's why we keep deep frying, dairy, and sugar to a minimum and never use lard. Our rice and peas are made with brown rice, our sweet potato wedges are baked with olive oil and our menu features a plethora of options for vegetarians, vegans, and those with nut, dairy, or gluten allergies. Jamaican food can equally accommodate palettes that prefer spice or milder tastes without ever compromising fullness of flavor.
At Kingston 11, we value our guests as our community, indeed our family. We hope you feel the warmth within these walls, in our love-filled cuisine, and in our friendly service.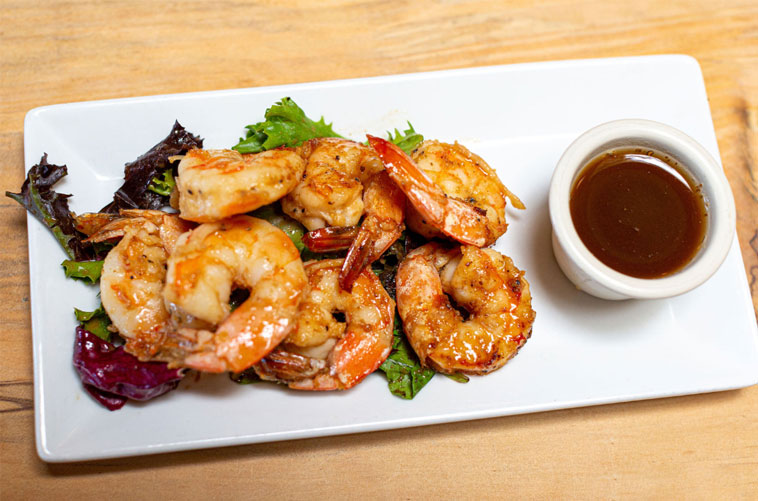 FERN GULLY RUM BAR
Sugar cane is not native to Jamaica or the surrounding Caribbean islands. Rum represents the complexity and conflicting nature of life in the Caribbean and the African Diaspora. The production of small and large batch rums has long been a tradition in private family homes and large distilleries alike. It is the innovation of Caribbean distilleries and rum's complex flavors and origins that our rum bar seeks to showcase. From Jamaica's overproof white rums popular in rum punch to the warm caramel of a 12-year from Guyana, our Fern Gully rum bar features a range of rums for every palette. Ever-growing, we seek to introduce the Bay Area to the common and the rare, the diversity and influence of the islands on the rums of the world. Come enjoy a customized flight of rums and geek out on the origins, cultural significance, and complex flavors of the rums we offer!
In addition to the largest selection of rums in Oakland, our Fern Gully Rum Bar features an evolving selection of cocktails developed with love by popular Bay Area bartender Vita Simone. Each cocktail is well-balanced and a perfect compliment to our menu. Using home-brewed Jamaican ingredients like sorrel and ginger beer, locally roasted coffee by Red Bay Coffee roasters, rare bitters, homemade elixers, and fresh juices, our cocktails will surprise you with a balance of heat, sweet, warmth, spice, and bitterness all while making you feel just a bit sexier than when you entered.
We gladly take reservations for parties of 6 or more. For parties larger than 10 we prefer to serve family style so everyone gets a taste of the menu. If you have a party larger than 15 please pre-order so we can be sure to accommodate your group accordingly. Email info@kingston11eats.com or call 510 465 2558 to make reservations.